By: Kim Cox
Protect yourself and your family from danger, and your home
from damage when putting up outdoor lights and decorations
If you decorate the outside of your Maryland home, here are some tips that will help ensure a safer, more enjoyable Christmas… (yep… most are common sense, but I'm going to list them anyway – I'm sure you don't want to burn your house down)
Ladders
Use wood or fiberglass ladders instead of metal ones that conduct electricity
Make sure your ladder is stable, and long enough to reach without standing on the top rung
Get some help to steady the ladder and pass up lights and decorations
Stay away from power lines (nobody likes to get electrocuted)
Electrical, lights, and extension cords
Make sure all lights, decorations, and extension cords are UL approved, and marked for outdoor use (please read the labels)
Don't overload electrical circuits with too many lights or decorations
Plug into circuits that are protected with a GFCI (ground fault protection outlet)
Don't attach lights to your roof's shingles! Attach to your gutters with common gutter clips, or to the fascia or soffit with hooks
Don't use a long string of attached extension cords and power strips
Make sure lights, cords, and insulation aren't damaged
Roof and gutters
Don't attach Christmas lights to your shingles with nails or staples
If you put decorations on the roof, talk to an experienced roofer who can tell you how to fasten them properly and securely, without compromising the integrity of your roof
Don't hang anything other than lights from your gutters. They're not designed to hold heavy objects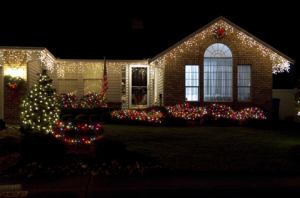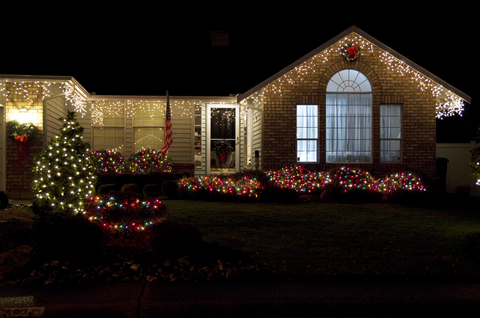 Summary
These are just a few of the more common tips.
If you don't feel comfortable working on ladders or getting on the roof, then don't. Hire someone who is experienced in installing Christmas lights and decorations.
And for goodness sake … BE CAREFUL!
Merry Christmas from all of us here at your favorite Maryland roofing company… On Top Home Improvements!
Call us at 301-368-3551 with your questions about
properly and safely hanging outdoor decorations

On Top Home Improvements
10818 Avonlea Ridge Place
Damascus, MD 20872
301-368-3551
Click to E-mail