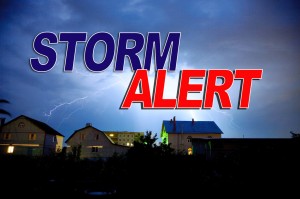 According to The Weather Channel, Hurricane Sandy is expected to have a huge impact on the Northeastern United States starting tonight and it's not just the coastal areas. Experts have said that "there is now a 90 percent chance that we will be pounded beginning on Sunday and lasting through at least Halloween on Wednesday." Hurricane Specialist Bryan Norcross has even said that the storm "will be like a nor'easter with a hurricane embedded in it."
Sandy is expected to bombard the Northeast with high winds, heavy rain, extremely high tides and it could even cause snow in some areas. Some are already drawing comparisons to the "Perfect Storm" of 1991 but as of now, Sandy is expected to do more damage because she will be hitting more densely populated areas.
Though we aren't on the coast, we are still expecting severe weather with notices from the National Weather Service activating High Wind Warnings and saying that residents in our area should be prepared for extended power and communications outages and damage to homes.
We want to let the entire Baltimore area know that we are ready for Hurricane Sandy and are prepared to help in case of any damage to your home. We have stocked up on tarps and will be on-call for you 24/7 to help cover your roof and lessen damage to your home in the event of a leak. Just call us if you're in need of a tarp and we'll have a crew out as soon as it is safe to do so!
Call Us if You Need a Tarp or Suffer Damage!
301-368-3551
Also, to ensure that you're ready for the storm, we are including a Hurricane Preparation Guide from Realtor, Jack Cotton in Cape Cod. He's faced many such storms and has updated his guide to make sure we're all ready for Sandy. Just click on the button below to download and don't forget to call us if we can help in any way!