By Kim Cox:
While there are many factors you should consider before hiring a roofing company to repair or replace the roof on your Maryland home…
Simply ask them these five questions, and it will save you tons of grief, wasted money, and help avoid further damage to your Maryland home due to hiring the wrong contractor.
No doubt you'll want to hire someone who can quickly determine the root cause of your roof problem, and give you the best options to fix it right, the first time.
1.How much experience do they have repairing and replacing residential roofs?
Logic dictates that more experience is better, but only if someone also has necessary knowledge, qualifications and manufacturer training to match.
For example, Dan has been repairing and replacing local homeowner's roofs for more than 30 years, so he obviously knows what he's doing…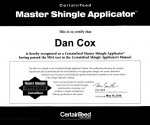 But he also backs his 30+ years of roofing experience and longevity by:
Earning the prestigious Tenured Member Certificate of CertainTeed's Shinglemaster program
Being recognized by CertainTeed as a Certified Shingle Master, and…
Maintaining Dan the CertainTeed Certified Master Shingle Applicator Certificate
2. How long will their warranty be, and what will it cover?
Chances are, you'll get a lot of answers, the most common being one year labor plus whatever the shingle warranty is. Again… usually the longer the better, but also depending on what is covered and what is excluded.
We know there are lots of roofers in our MD service area. But remember, when you hire us to re-shingle your roof, you'll also get our exclusive 100% Lifetime Roofing Labor Warranty, which nobody else will dare to offer.
And you get your warranty from us in writing!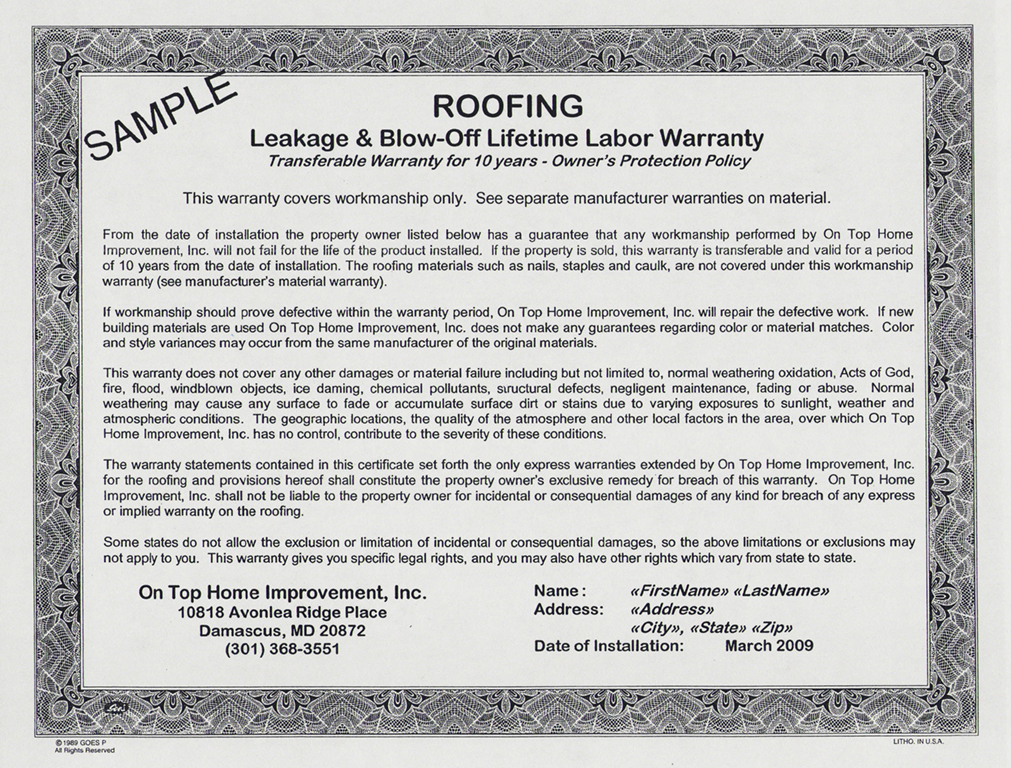 3. Do they have the necessary Maryland licenses and full insurance coverage?
The state of Maryland requires a Contractor/Salesman License and a Construction Firm License to operate a legitimate roofing business here. If they don't, then run away… fast.
You'll also want to make sure anyone you hire has full Liability insurance, and a valid Workers Comp insurance policy before you let them perform any home repairs.
On Top Home Improvements has all the necessary Maryland state licenses, and up-to-date full coverage Liability and Workers Comp Insurance.
4. Do they provide high quality materials and service?
Of course, everybody will probably say yes… but the proof is in their past work in the area.
Check several references and testimonials of recent repair clients who work done similar to what you need.
Make sure they are using quality shingles and materials… Cheaper is usually not better… And for a reason.
We only use highly rated CertainTeed roofing shingles and products because we know they hold up to the test of time, and at a reasonable price.
You can check out some of our testimonials here, and would be happy to put you in touch with some of them to speak with about our service and their satisfaction.
5. Will you get a detailed, comprehensive repair proposal…in writing?
This is self explanatory… but very important!
You'll want to know exactly what you're getting, and who's responsible for what. It's critical to know you and your roofing company are on the same page, and that your expectations match. The detailed proposal minimizes any chance for miscommunication.
We provide a detailed written proposal package that includes everything you need to know about your project, including copies of all licenses, proof of insurance, our Lifetime Warranty, and manufacturer certificates.
The bottom line:
Hopefully this provides you some good solid information so you can ask good questions when you're looking for a contractor (any kind of contractor) to work on your home.
Whether your home is in Frederick, or Silver Spring, over to Columbia, Maryland, or any community in between, we can help!
To get your free, no-obligation roofing repair analysis,
or to simply ask a question, call Kim at 301-368-3551
On Top Home Improvements, Inc.
10818 Avonlea Ridge Place
Damascus, MD 20872
Tel: 301-368-3551
Click to E-mail