Attention: Montgomery, PG, Frederick, and Howard County homeowners:
Replace your leaky, broken gutters with strong, aluminum seamless gutters that NEVER LEAK… NEVER RUST… AND WILL LAST FOREVER

.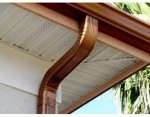 Stay safe and out of the gutter while we do the dirty work.
We'll replace your old rain gutters and downspouts using rugged, seamless aluminum or copper gutters. And after your new gutters are installed… they'll blend in so well… your friends may not even see them.
Okay… Do any of these questions hit a nerve?
Are your gutters falling off, damaged, or rusty?
Do your gutters leak in the most inconvenient spots? (at seams)
When it rains, do you get soaked when you go through your front door or garage?
Do you get water in your basement, or does it easily flood?
When it rains hard, do big pools of water accumulate around the foundation, and wash away the landscaping?
Are your gutters or downspouts always clogged with leaves, pine needles, or other debris, forcing water to spill over the edge?
Do your gutters stand out like a sore thumb, or are just plain ugly?
Important note *** These are signs of poor drainage, and are usually caused by a damaged or improperly designed gutter and downspout system. (Except for the one about it being ugly)
If you live in the Frederick, Silver Spring, Columbia and Baltimore MD areas… and answered YES to any of these warning signs, we can help by inspecting your gutter system for proper operation and installation.
"Thank you for getting our gutter and roof work done quickly and neatly!"
Mr. & Mrs. Carlberg, Germantown, MD
Granted… Gutters aren't glamorous, fun, or exciting. You're probably not going to rush home to call your best friend about the new gutters. (Yea… some of you guys will)… We get it…
But wouldn't you be excited when you save thousands of dollars in repair costs to your roof, foundation or landscaping?
Or when you save those priceless heirlooms that are stored in your cellar from serious water, moisture and mold damage.
That's where professional gutter replacement and gutter guards will save the day!
It's a fact that properly installed gutters…
Will protect you from deadly mold by helping to keep your basement or crawl space dry
Preserve and protect your landscaping and top soil
Protect doors, windows, and siding from water damage and eliminate premature rotting
Minimize costly water-related damage to your home and valuable possessions
Maryland homeowners trust us as their gutters company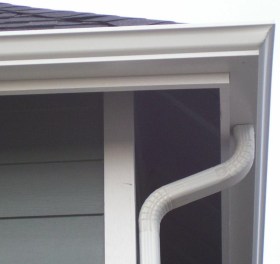 Not to brag… but more than 6,000 homeowners from Montgomery, Howard, Frederick, and Prince George's, counties have trusted On Top Home Improvements' honest and professional service.
To get a free, no-obligation, no-pressure estimate that includes everything you need to replace your gutters and downspouts, call us.
In addition to your detailed estimate… you'll get other important facts that can help you decide who to hire.
With all the so-called "gutters companies" in our Maryland service area, deciding who to call can be confusing. We think (and yes, we're a tad biased) you deserve good, old-fashioned service with a smile.
Why you should consider us to replace your gutters
You get a free, comprehensive, detailed estimate, with a fixed price. It will show you exactly what you need and what you'll get for the estimated price
Your job will be done right the first time, using only the highest strength metal gutters, hangers, downspouts and top-rated gutter guards by Valor
You benefit from over 30 years of roofing experience
Completely honest and trustworthy
We'll do an exceptional job for you at a fair price
No deposit, unless the job is over $6000
You get our 5 Year Labor Warranty – in writing
Written proof of insurance coverage and state licenses
We'll legally dispose of all old gutters, downspouts, and debris
We cover and protect your plants and bushes, and clean up the job site when we're done
"I'm very pleased with the work that was done. I would recommend your work to anyone."
Mrs. Kuykendall, Silver Spring, MD
What kinds of gutters and gutter guards do we install?
You deserve the best gutters you can get for the right price. So we only install seamless gutters made from high-quality aluminum. They'll keep your home and surrounding landscape dry, and keep you safe.
"No-leak" seamless gutters that span any length, custom made for your home
They'll never rust, because we only use aluminum and copper gutters that will last for many years
Get the strongest gutters you can get, using only extra-thick 32 gauge metal
Standard 5" and 6" size gutters to fit your home
New gutters will make your home will look neat and stylish
Virtually maintenance-free
No unsightly and unreliable spikes – we only use reinforced invisible hangers
Match your home's siding perfectly, choose from 14 colors
K-style and half-round profiles available
We'll replace any rotted or damaged fascia boards
No new holes in your roof to mount new gutters
All corners, downspouts, and end-caps are sealed with water-proof caulk
Eliminate clogged gutters and downspouts with gutter and leaf guards made by Valor

Our Maryland service area includes…:
Montgomery, Prince George's, Frederick or Howard County Maryland… from Frederick to Silver Spring, over to Columbia, and every community in between.
Oh… we can also handle any other home improvement services you need:
To schedule your free, no-obligation gutter
replacement estimate, call Kim at 301-368-3551
On Top Home Improvements, Inc.
10818 Avonlea Ridge Place
Damascus, MD 20872
Tel: 301-368-3551
Click to E-mail