What other Maryland Roofing Contractor dares
to give you a 100% Lifetime Labor Warranty
on every new or replacement roof?
For over 3 decades, On Top Home Improvements has been the
only Montgomery County roofing repair company to offer
our customers a Lifetime Roofing Labor Warranty
.
So what's the big deal about your roof, anyway?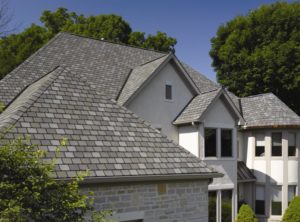 Well… it's not that your roof is exciting or glamorous. (Though a solid, well maintained high-quality roof does look pretty good!)
The big deal is that a solid roof is your family and home's first level of defense and protection against blistering heat, frigid cold, wind, snow and rain.
When your roof starts to fail, (which eventually happens to all roofs older than 15 years or so) you'll notice these common warning signs:
Water dripping inside your home (Get the pots ready to catch it)
Stained or drooping ceilings
Moldy or rotted roof sheathing in your attic
Ice dams or giant icicles hanging from the eaves
Missing, curled, rotted, or damaged shingles
And other signs that aren't so obvious
And no matter how important as a good, solid roof is… it's usually ignored until it's too late, and it ends up costing the homeowner several thousands of dollars more than it needed to.
It's important to note… YES… we do see these roofing problems, even in the Frederick, Silver Spring, Columbia and Baltimore, MD areas.
When you see any of these danger warnings, you should immediately get it inspected by an experienced roofer, like Dan Cox. Dan's a CertainTeed Certified Shingle Master, so he'll quickly determine the root cause of the roof problem, and give you the best options to fix it right, the first time.
"Thank you again for a great job and service on our roof replacement. Your service was impeccable and the entire process smooth. It was nice to pick up the phone and everything was handled, expediently and efficiently. Your sub-contractors were very kind and professional."

Kimberly Sabatano, Frederick, MD
Frankly, roof leak repairs and replacements aren't cheap… But when you think about the cost of replacing ruined possessions, furniture, replacing drywall, ceilings, and painting caused by leaking water from a bad roof… fixing or replacing your roof before this happens can be a bargain.
.
Maryland homeowners put their trust in us
Join the ranks of 6,000+ satisfied homeowners from Montgomery, Howard, Frederick, and Prince George's counties that have used On Top Home Improvements' expert roofing repairs.
With one simple phone call… we'll give you a free, no-obligation estimate that includes everything you need to fix your roof, plus other important information that will help you decide who to hire.
We know there are lots of roofers in our MD service area. But remember, when you hire us to re-shingle your roof, you'll also get our exclusive 100% Lifetime Roofing Labor Warranty, which nobody else will offer.
Plus… we've been repairing and replacing roofs for more than 30 years, so we obviously know what we're doing… even earning the prestigious Tenured Member Certificate of CertainTeed's Shinglemaster program!
Just think… water leaks and ice dams will be gone forever!
What are the benefits of hiring us to repair your roof leak?
You get a free, comprehensive, detailed estimate with a fixed price. It will show you exactly what you need and what you'll get for the estimated price
We'll do the job right the first time using only top-notch, #1 Rated, and durable

CertainTeed

shingles, proper flashing, drip edge, ice & water shield, sheathing and other necessary roofing materials
Over 30 years of roofing experience
Completely honest and trustworthy
Dan is a CertainTeed Certified Master Shingle Applicator
We'll do an exceptional job for you at a reasonable price
No deposit, unless the job is over $6000
Lifetime Roofing Labor Warranty – in writing
Written proof of insurance coverage and state licenses
We'll legally dispose of all construction debris
We cover and protect plants and bushes, and clean up the job site when we're done
"The roof looks great. The color was just fine. The crew worked diligently. They cleaned up after the job was completed. Please feel free to use us as a reference."
The Singers, Laytonsville, MD
What kinds of roofs and shingles do we install?
We install CertainTeed's high-performance Landmark, Landmark Premium, XT, and CT Series roofing shingles. And not just a few… but literally thousands of residential (and some commercial) roofs for customers over the last 28 years, including…
Traditional 3-tab asphalt shingles
Architectural shingles
Slate roofs
Cedar shake roofing
Metal roofs
Our experience has shown us that CertainTeed shingles will last many years, and still withstand Maryland's occasional extreme weather.
CertainTeed shingles are…
Beautiful
Strong
Durable
Fire resistant
Streak resistant
Made to withstand 60-90 mph winds
Manufactured with recycled materials
Available in 17 rich colors and styles
Some styles designed specifically for the Northeast U.S.
Warrantied against defects for 20-35 years, depending on style
Our Maryland service area includes…
Montgomery, Prince George's, Frederick, or Howard County Maryland, from Frederick to Silver Spring, over to Columbia, and every community in between.
To get a free, no-obligation roofing repair estimate, call 301-368-3551
On Top Home Improvements, Inc.
10818 Avonlea Ridge Place
Damascus, MD 20872
Tel: 301-368-3551
Click to E-mail