Enjoy the warmth and brightness of natural sunlight
flooding into your home through Wasco or Velux skylights
On Top Home Improvements in Damascus, MD has over 30 years of experience installing leak-free skylights for Montgomery, PG, Frederick & Howard County homeowners
.
But first.. Check out this short introduction to the benefits of skylights…
.
Do you want to brighten a dark, poorly-lit room with a new skylight?
Do your existing old skylights leak, let cold drafty air in, or are they out of style?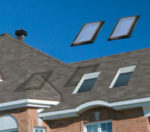 If you answered YES, then you're in the right place. We'll help you, just like we've helped more than 6,000 other Maryland homeowners.
There are many reasons you might want to add or replace a skylight, and you may think the price is out of reach.
But the fact is… Installing or replacing skylights in your home is no longer a luxury, and the cost is usually a lot less than you'd think!
Many people consider new skylights necessary to improve their good health and well-being.
Why should you install a new skylight?
If you don't currently have skylights… here are some good reasons to install one…
Brighten up any room by 300%, by letting in natural sunlight
Enjoy the warmth and comfort of the sun streaming in
Save on energy costs by reducing amount of artificial light
Get proven health benefits of freshly circulated air and ventilation (from some models)
Colors seem to come alive because of the natural light
They can make a room look more open, while maintaining privacy
Skylights will increase beauty and visual appeal of any room
They look great from the outside and add curb appeal!
If you already have skylights… and they're over 10 years old, you'll see immediate benefits when you of replace them with new, high-efficiency models…
No more water leaks means no mold, mildew or water damage in your ceiling, walls, roof, or furniture
No more condensation fogging up your glass, or dripping into the wrong places
No more cold drafts blowing through your skylight
Today's high efficiency models will reduce your heating and air conditioning bills by keeping cold outside in the winter, and cool air inside in the summer
And they'll look shiny and new again (of course, they will be)
"Your crew was superb. Efficient and professional. Feel free to use me as a reference."
Ron Kurtz, Rockville, MD
Maryland homeowners have trusted us to install skylights for over 30 years
Not to brag… (well… maybe a little) but more than 6,000 homeowners from Montgomery, Howard,  Frederick, and Prince George's counties have trusted On Top Home Improvements'  honest, professional service.
Why you should consider us for your skylight installation?
You get a free, comprehensive, detailed estimate, with a fixed price. It will show exactly what you need and what you'll get for the estimated price
Your job will be done right the first time, using only top-rated, energy-efficient, and beautiful skylights made by Wasco and Velux.
Over 30 years of experience doing what we say, and when we say we're going to do it
We're completely honest and trustworthy
You get our 5 Year Labor Warranty – in writing
Written proof of insurance coverage and state licenses
We'll do an exceptional job for you at a fair price
No deposit, unless the job is over $6000
We'll legally dispose of all old skylights, flashing, and other debris
"I'm very pleased with the work that was done. I would recommend your work to anyone."
Mrs. Kuykendall, Silver Spring, MD
What kinds of skylights do we install?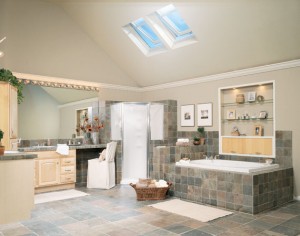 We only install skylights made from quality materials and workmanship, and are available with the features and options you want.
That's why we choose to install Wasco and Velux new and replacement skylights for your Maryland home or townhouse.
Both companies have lots of styles, options, and colors to select from.
We can help you choose the best style, color and placement for your home.
You'll get many years of trouble-free operation:
Because they are design and manufactured to exacting standards, the flashing will never leak
The frames are insulated to provide energy efficient skylights
Get several styles that will complement the look of your home, and look absolutely beautiful
Replacement of existing skylights is easy, and they fit in your existing frame using standard size skylights
Velux skylights are built with energy efficient, Low-E, Argon gas injected dual glass panes for maximum energy savings
Options include screens, window cranks, remote and motorized openers, and preinstalled blinds
The bottom line about skylights… There are many styles and sizes of skylights available, and if you're not careful, it's easy to pick a skylight that you won't be happy with.
Let us work with you so you can select the skylight that's perfect for you, and your home's individual characteristics.
Our Maryland service area includes:
Montgomery, Prince George's, Frederick, Howard and Baltimore Counties
Cities of Frederick, Silver Spring, Columbia, and every community in between
Oh… we can also handle any other home improvement services you need:
To schedule your free, no-pressure
skylight estimate, call 301-368-3551
On Top Home Improvements, Inc.
10818 Avonlea Ridge Place
Damascus, MD 20872
Tel: 301-368-3551
Click to E-mail