Is poor attic ventilation causing permanent damage
to your home due to moisture, rot, and mildew?
Let Maryland based On Top Home Improvements, Inc. make sure your soffit vents,
attic fan, and ridge vents protect your home and family from serious damage
.


Hey there Montgomery, PG, Frederick, & Howard County homeowners…

What do your home's attic and your body have in common? (Really… it's not a trick question)

Answer: They must both breathe in and breathe out in order to survive.

Think about it this way…

Your body needs to breathe in fresh air through your mouth and noise, and breathe out all the nasty stuff. If you don't exhale, you get sick.

Well… your attic and roof needs to breathe in and out, too. If it breathes correctly (we call it ventilation), your roof and attic will stay dry, safe and strong for many years. Plus, your attic and living space will stay cooler in the summer, drier in the winter.

However – if it's not ventilated (not breathing right) with the right soffit and ridge vent system… heat and moisture gets trapped, and your roof will die a miserable, premature death, basically rotting away from the inside out.

Does your home show any of these warning signs?
Mold or mildew build-up on the underside of your roof sheathing
Discolored or curled roofing shingles
Premature rotting of roof materials
Mold on roof sheathing indicates a serious problem caused by poor attic ventilation, giant icicles and severe ice dams
Water leaks from bathroom fans
Soggy or waterlogged attic insulation
Warped siding
Peeling paint
Drywall damage or cracks
If you answered YES to any of these symptoms, and you're in the Frederick, Silver Spring, Columbia or Baltimore MD areas… we can help by inspecting your ventilation system for proper operation and installation.
Why it's important to correctly ventilate your attic
Fear not…we can take care of your home's ventilation problems so you don't have to.
The best way to ventilate your attic, and extend the life of your roof, (and even protect your health) is to properly install soffit vents, a ridge vent, an attic fan, or a combination, depending on the specifics of your house design.
A properly balanced ventilation system protects the investment in your home and helps reduce energy costs by taking care of two vital tasks.
First… Good ventilation will reduce heat and moisture build-up, so your roof lasts longer.
And fans help equalize the inside and outside temperatures, improving air flow, and significantly reduce the chances of severe ice dams (which will cause other costly damage).
This is especially important for homes in our Maryland service area, where we have hot summers and cold winters.
"Your crew did a great job. I was very impressed with their work and work ethic."
Alan Green, Germantown, MD
Soffit vents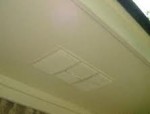 First – here's a layman's definition of a soffit. It's the horizontal piece of wood or plastic under your roof overhang, usually 8 or 9 inches wide. Properly installed soffit vents are a key component of your home's attic ventilation system.
They allow air to enter your attic at the lowest point of your roof. (Remember – the "breathe in" part). We will test your attic to make sure you have the right kind of soffit vents installed, in the right places, and they work like they're supposed to.
Or if you don't have soffit vents at all, we can install new ones in your existing soffit to get the air circulation your attic needs. We'll also install rafter bay baffles that guarantee proper air flow through your new vents.
You can choose from several styles of rust-proof aluminum vents that work great, and look great, too!
Ridge vents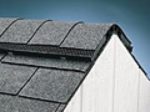 This is where the "breathe out" part comes into play.
In a well-balanced ventilation system, air enters your attic from a soffit or gable vent, circulates around the attic, and then exits your house through the ridge vent at the top of your roof.
In the summer, this allows the hot air to escape, instead of being trapped. (Do you remember from science class that hot air rises?)
And in the winter, it helps the cold air to circulate, almost like a chimney draft, and helps keep the attic and roof as cold as the outside temperature to prevent moisture and ice dams.
We install only top-rated CertainTeed ShingleVent II ridge vents because they're effective, durable, easy to install, and will be virtually invisible, too!
Attic fans
In certain situations, an attic fan may help increase ventilation in your attic. They work much like a range hood fan or ceiling fan, pulling air to the outside of your home, and they also have an added benefit of quickly ventilating unwanted or deadly fumes.
You can choose from attic fans made by AirVent and Lomanco. Their fans are solar powered or run on AC, with stylish attic fans that can be mounted on your roof or mounted on the gable end of your house.
You can even get models that automatically turn on and off based on a predetermined temperature or moisture level.
Maryland homeowners trust us to install ridge vents, soffit vents, and attic fans
For more than 30 years, 6,000+ homeowners from Montgomery, Howard, Frederick, and Prince George's Counties MD have trusted On Top Home Improvements' honest and professional home repair service.
Frankly… you can buy soffit vents, ridge vents, and attic fans in your local home improvement store… But if you get the wrong type of vents, incorrectly install them, or don't put them in the perfect spot, your attic ventilation system won't work the way it needs to. That's why you should call us.
We'll design and install your attic ventilation system to work perfectly from A-Z, and you'll be pleasantly surprised at how little it will actually cost.
To schedule a free, no-obligation home
ventilation estimate, call us at 301-368-3551
Why you should get a free estimate from us…
You get a free, comprehensive, detailed estimate to vent your attic correctly, with a fixed price.
It will show you exactly what you need and what you'll get for the estimated price
Your job will be done right the first time, using only the highest quality soffit vents, ridge vents, and attic fans made by AirVent and Lomanco.
Over 28 years of ventilation experience
Completely honest and trustworthy
We'll do an exceptional job for you at a fair price
No deposit, unless the job is over $6000
You get our 5 Year Labor Warranty – in writing
Written proof of insurance coverage and state licenses
.
"Thank you Dan. You did a great job. We're very happy with all the work."
Ed & Georgia Rodatus, Frederick, MD
Our Maryland service area includes:
Montgomery, Prince George's, Frederick, Howard and Baltimore County
Cities of Frederick, Silver Spring, Columbia and every community in between
Oh… we can also handle any other home improvement services you need:
To schedule your free, no-obligation home
ventilation estimate, call us at 301-368-3551
On Top Home Improvements, Inc.
10818 Avonlea Ridge Place
Damascus, MD 20872
Tel: 301-368-3551
Click to E-mail