Vinyl Replacement Windows Maintain the Value of Your Home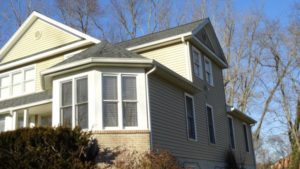 Maintaining your home's value is very important, for most if us it is our most valuable asset, besides family of course. One of the most beneficial improvements is replacing your old breezy windows with nice new vinyl replacement windows. They will not only dramatically increase the beauty of your home's exterior, they will block noise from the streets, help conserve energy that will save money on your heating and cooling bills and they are also a relatively inexpensive project.
There are a couple of things you must do to get ready for a project like this:
Come up with a realistic budget and do some research.  Talk to friends and find out their experiences with contractors and window brands.  There are so many brands on the market, get a good idea on the quality of each before you talk to a contractor, then talk to several contractor's and get their opinions and pricing.  Armed with enough information, you should be able to get the right fit for you.  If your on a tight budget, there may be parts of the project you can do yourself and this could save a little cash or allow an upgrade to a better quality window.
Choose a qualified and reliable contractor to complete the project.  There are plenty of weekend warriors out there that try to do the job themselves, but it can be an overwhelming venture if you are doing your whole house!  And doing it room by room can also end up with an undesired result because replacement window manufacturers change their windows all the time, you will have varying quality and varying styles.  This doesn't help the resale value as much as it could.   When you choose the right professional installer, call references, look online do they have anybody complaining about their work and ask to see before and after pictures of previous projects.  This should help eliminate the "unprofessional" professional.
Vinyl replacement windows have a huge impact on the value of your home and are a substantial home renovation.  Quality counts of course so don't skimp on it to save a little bit of money.  Better quality windows will definitely provide more benefits in the long run by making your home more attractive and updated home interior and having a higher efficiency rating.
In closing, take the time to look at all your options.  Don't fall into the trap of saving a little up front and getting a poor quality product, they will pay for themselves over time, and the better the quality the less time it will take you to get your return.
And don't forget, just click here to get a no cost estimate on Vinyl Replacement Windows in Maryland